Archive for the 'Just Blogging Stuff' Category
Just arrived from China (ebay)… a shiney rgb-led strip
This week I received a PS3Break device, but it seems it's a fake version. It works just fine with the 3.41 firmware on the PS3, but doesn't have an upgrade button to upgrade the payload on the device.
This is not (yet) a big problem, but it would be nice if I could get it to upgrade to a newer payload. It's label claims it's version 1.1. Here are some pictures of the device itself, and the PCB inside.
I have already tried shorting several sets of pins on the PCB where I guess the programming button might be wired, but so far I have not yet succeeded.
Might be a nice little project to look into on the next hackerspace meeting.
I recently purchased a new ultralight laptop to replace my 3 year old Sony Vaio TZ21. I settled for a Lenovo Thinkpad Edge 11″ this time. I am really fond of the Thinkpad brand, and this Thinkpad Edge is quite a deviation from the 'normal' Thinkpad design.
The Edge comes in a few variants, ranging from 11 to 13 and 15″, all available in AMD and Intel flavors. Wanting something thin and light I choose the 11″ model, which at 11.6 inches is slightly bigger then the Vaio (11.1″).
The screen has a decent resolution for the size, at 1366×768 it should be sufficient for most uses. The screen is of the glossy variant and has a good range in brightness settings and decent viewing angles. Like in any Thinkpad the hinges are made of metal, and the screen can bend all the way to a flat position. Also in the screen-bezel is a low-light uvc-webcam.
The Edge 11 comes in two versions, Intel Core i3 and AMD K325, both running at 1.3 Ghz. In the netherlands the AMD version comes with 4GB of DDR3 ram, while the Intel version comes with only 2GB. Given that the AMD version is also a good €100 cheaper, this choice was easy.
The 320 GB Hitachi HTS54503 5400rpm disk should provide enough space, but isn't the fastest or biggest on the block. I'm thinking of replacing it with an SSD drive, or at the very least adding an SSD to the system.
The included Windows Home installation was quickly replaced by Ubuntu 10.10, which recognised almost all the included hardware, including (after installing the closed-source drivers) the Ati/AMD video chip, webcam, ethernet, bluetooth, cardreader and wireless network (The realtek driver does need an update before it works)
The Inside
I did have some small hardware issues with the Thinkpad, as the spacebar wouldn't always register a press when I hit it on the far-left side. Since I mostly use my left thumb for hitting the space I noticed a lot of missing spaces. I contacted Lenovo/IBM support about this issue and then quickly sent me a replacement keyboard and directed me to the installation instructions.
I got the keyboard replaced the next day, which gave me a nice look at the inside of the Edge. It looks very well built, and is very much user-servicable.
Removing the 3 screws on the bottom allows access to all the internals:
Hard drive bay
Half-height mini-pci bay for Wifi/Bluetooth
Full-height mini-pci bay (empty, might want to use this for a mini-pci based SSD drive?)
2 DIMM slots (both containing a 2GB DDR3 SODIMM)
Sim-card slot (for the optional internal Gobi 3G modem
Removing the keyboard required the removal of the battery pack and two screws underneath it (they hold the keyboard in place) and removing the sata harddrive (2 screws). After these are all removed you have access to the back of the keyboard, and it's just a matter of a small push to click it loose.
Putting the Edge together again wasn't hard and the entire procedure took no more then a few minutes (including doing it twice, since I didn't correctly push down on the keyboard connector, so some keys weren't working the first time)
Using it with Ubuntu Linux
Installation of Ubuntu was a breeze, as usual, and only a few issues remained after the initial installation:
The wireless network wouldn't work
Suspend to ram doesn't work
The touchpad/pointer would occasionally lock-up for short periods of time
Realtek rtl8192CE/8195 Wireless
The Realtek rtl8192CE driver included in Ubuntu 10.10 recognised the internal wifi card, but did have issues with it. Upgrading this driver with on from the Realtek site made the wireless network work, but still reports a lot of interesting messages in the 'dmesg' output. This situation should improve, as more work is done on this new driver.
Suspend to RAM
Appending 'acpi_osi=linux noapic' to the kernel commandline seems to fix all suspend/resume issues.
Synaptics touchpad behaving erratic
The touchpad will report errors and reset itself occasionally. This results in a few seconds of unresponsiveness. This also seems to be fixed by the above kernel commandline options. (I couldn't reproduce it anymore since)
Sound
Plugging in a headphone will not redirect sound to the headphone jack (that stays silent, and the speakers keep playing). As user 'Felix' reported below, append "options snd-hda-intel model=ideapad" in /etc/modprobe.d/alsa-base.conf to fix issues with the microphone and jack plug-detection. (untested by me)
The Good, the Bad, and the Ugly
Good
Cheap
Light
Good battery life
Good chiclet keyboard, and also the 'clit' pointer
No optical drive or other useless hardware
Vga, HDMI, 3x USB, Cardreader, Ethernet… so much more then a macbook air.
64 Bit, Dual Core, AMD-V capable CPU and enough memory
A nice red led as the dot on the 'i' in Thinkpad
Silent, without getting hot
The Bad
No backlit keyboard or thinklight
No disk and network-activity leds
Current state of linux support (though getting better)
The Ugly
No working suspend (yet) in Linux
Issues with the trackpad
lspci
The device list of this laptop:

00:00.0 Host bridge: Advanced Micro Devices [AMD] RS780 Host Bridge Alternate
00:01.0 PCI bridge: Advanced Micro Devices [AMD] RS780 PCI to PCI bridge (int gfx)
00:04.0 PCI bridge: Advanced Micro Devices [AMD] RS780 PCI to PCI bridge (PCIE port 0)
00:05.0 PCI bridge: Advanced Micro Devices [AMD] RS780 PCI to PCI bridge (PCIE port 1)
00:11.0 SATA controller: ATI Technologies Inc SB700/SB800 SATA Controller [AHCI mode]
00:12.0 USB Controller: ATI Technologies Inc SB700/SB800 USB OHCI0 Controller
00:12.2 USB Controller: ATI Technologies Inc SB700/SB800 USB EHCI Controller
00:13.0 USB Controller: ATI Technologies Inc SB700/SB800 USB OHCI0 Controller
00:13.2 USB Controller: ATI Technologies Inc SB700/SB800 USB EHCI Controller
00:14.0 SMBus: ATI Technologies Inc SBx00 SMBus Controller (rev 42)
00:14.2 Audio device: ATI Technologies Inc SBx00 Azalia (Intel HDA) (rev 40)
00:14.3 ISA bridge: ATI Technologies Inc SB700/SB800 LPC host controller (rev 40)
00:14.4 PCI bridge: ATI Technologies Inc SBx00 PCI to PCI Bridge (rev 40)
00:18.0 Host bridge: Advanced Micro Devices [AMD] Family 10h Processor HyperTransport Configuration
00:18.1 Host bridge: Advanced Micro Devices [AMD] Family 10h Processor Address Map
00:18.2 Host bridge: Advanced Micro Devices [AMD] Family 10h Processor DRAM Controller
00:18.3 Host bridge: Advanced Micro Devices [AMD] Family 10h Processor Miscellaneous Control
00:18.4 Host bridge: Advanced Micro Devices [AMD] Family 10h Processor Link Control
01:05.0 VGA compatible controller: ATI Technologies Inc M880G [Mobility Radeon HD 4200]
01:05.1 Audio device: ATI Technologies Inc RS880 Audio Device [Radeon HD 4200]
02:00.0 Ethernet controller: Realtek Semiconductor Co., Ltd. RTL8111/8168B PCI Express Gigabit Ethernet controller (rev 03)
08:00.0 Network controller: Realtek Semiconductor Co., Ltd. Device 8176 (rev 01)

Cpu Info

processor       : 1
vendor_id       : AuthenticAMD
cpu family      : 16
model           : 6
model name      : AMD Athlon(tm) II Neo K325 Dual-Core Processor
stepping        : 3
cpu MHz         : 800.000
cache size      : 1024 KB
physical id     : 0
siblings        : 2
core id         : 1
cpu cores       : 2
apicid          : 1
initial apicid  : 1
fpu             : yes
fpu_exception   : yes
cpuid level     : 5
wp              : yes
flags           : fpu vme de pse tsc msr pae mce cx8 apic sep mtrr pge mca cmov pat pse36 clflush mmx fxsr \
    sse sse2 ht syscall nx mmxext fxsr_opt pdpe1gb rdtscp lm 3dnowext 3dnow constant_tsc rep_good \
    nonstop_tsc extd_apicid pni monitor cx16 popcnt lahf_lm cmp_legacy svm extapic cr8_legacy abm sse4a \
    3dnowprefetch osvw ibs skinit wdt nodeid_msr npt lbrv svm_lock nrip_save
bogomips        : 2593.54
TLB size        : 1024 4K pages
clflush size    : 64
cache_alignment : 64
address sizes   : 48 bits physical, 48 bits virtual
power management: ts ttp tm stc 100mhzsteps hwpstate

The scrapmame cabinet is getting to a functional level. Today I was able to play a game of asteroids, pacman and galaga on it.
All the buttons have been wired up to the controller using screw terminals (kroonsteentje) for easy (dis)assembly.
Before getting there I had to do some creative wiring, as it seems I cut some corners with wiring up the controller. A few separate ground-points were connected, however this was causing interesting signals on the analog joystick axes. A lot of trial-and-error later it seems I have clean inputs from all buttons and the digital joystick.
I still need to hook up the second stick (which will hopefully arrive from DX this week), some buttons (insert coin, start game) and a usb keypad (for misc buttons). A set of speakers should also arrive this week, allowing the scrapmame to make a decent amount of noise.
Next week I'll probably fit in the PC (I've been using my laptop for testing so far) and then I'll start on the launcher/menu interface.
I'll try to add some more pictures of the inside of the cabinet later.
After the woodworking on the scrapmame it was time for the electronics.
The first bit was unsoldering/cutting the wires on the sacrificed PSX controller and then connecting new wires to the solder-pads


The yellow wires are for the direction buttons, white for the 4 fire-buttons and blue is the common ground.
After a long soldering session the result looked like this:


A few more solder-pads were connected to ground wires (or each-other) and the red wires connect to the shoulder-buttons and analog-stick buttons of the PSX. The 2 new yellow wires connect to 'start' and 'select'.
This would give me a total of 16 buttons wired to a single PSX controller. On the mame cabinet this will translate to a sets of 4 directional buttons and 3 fire buttons for each player (2 players) and 2 remaining buttons for 'start' or 'insert coin'… I'm not too sure yet about what would be the 'best' combination.
Lastly, before calling it a night, I wired up the ground-connections on the joystick section, so I only need to bring 5 cables up to the stick ( and not 8 )

Next time I plan to connect all the wires to plugs that connect to the buttons (still need to buy the correct sized plugs) and joystick microswitches (which you can see in the background of the first picture)
At Revelation Space I have been doing some woodworking for a project I'm working on. I'm normaly the guy with two left hands when it comes to working with heavy machinery and old-skool hardware, but I must say I'm not doing too bad.
It helps that revspace has more then enough of the necessary tools (at home I only have a hammer and a screwdriver
)
The project is a self-built Arcade cabinet, which at this time has been called 'ScrapMAME', as it's been built completely out of scrap-materials.

I
have built the frame and outsides of the cabinet from wood boards that were originally bolted onto the windows in the workshop, together with some wood beams that were still lying around the space.
The buttons and joystick have been ordered from DealExtreme, and the first batch has arrived. Hopefully my second shipment with the remaining parts will arrive soon.
I'm using this arcade stick, and these buttons from DX. The buttons will be wired to the pcb of an old PSX controller, which will be connected to a PSX->USB adapter.
2010/06/26: The buttons and joystick arrived, so I could finally drill the holes.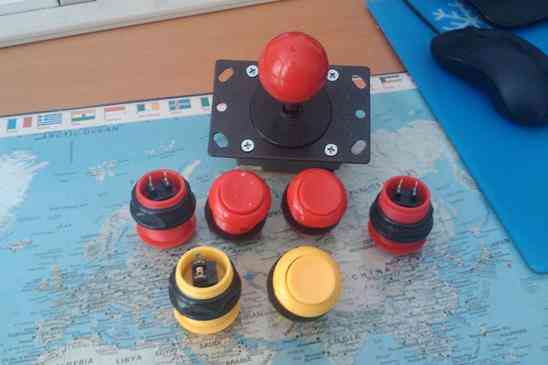 There is still lots to be done… which will be added as soon as I get to it ;P
It seems my mailserver has been bouncing mails this morning.
My spam filtering setup was broken somewhere in the virus-scanning phase, as clamav was reporting errors. This caused all mail to be rejected. This should now be fixed (at least for now, as I disabled the clamav plugin on pythonfilter).
Also, someone had hacked into my ICQ account (which I hardly use anymore) and spammed all my contacts for some russian site. The password on my ICQ account has been changed, so this should no longer be an issue either.
Sorry for causing this mess
Just like about every year…
We're going with at least 8 people from #eth0, so that should be quite entertaining.
After having been frustrated for 2 weeks about the performance of my new raid-array, and spending an evening trying to pinpoint the issue, something that hasn't happened to me in the 20 years I've been working with computers occurred. The magic smoke of a device was released upon connecting it.
I had pinpointed the performance-issue to a single disk in the array, which was acting weird. It would be detected as 500GB a single time, and as 1500GB the next. It's read performance on sequential reads would fluctuate between ~80MB/sec (as the other disks) and < 1M/sec. Sometimes sticking at the snail-pace for minutes before going back to 80M/sec. After removing the disk from the array and trying it on a different controller it worked again for a while, but I cheered too soon, as the performance dropped again after a few minutes.
I finally decided to connect the disk to a second machine, so I could run a long performance-test on it without impacting my normal use on the system it came from. So I plugged in the SATA and power-cables, turned the 2nd computer on, and was greeted by a sizable puff of gray smoke coming from the PCB of the drive. A nasty smell accompanied the smoke and signaled that this troublesome disk had spinned it's last cycles.
There is no directly visible damage or burns, as the smoke came from the side of the PCB that's facing the disk, the smell probably largely coming from the foam that separates the disk housing and the PCB.
Naturally the disk was no longer recognized by any system from this point forward… so I have to run back to the store (again) tomorrow to replace the disk (the 2nd in the batch of 4 I bought 2 weeks ago).
Oh well…. let's just hope this is the first and last time this happens ;P
Yesterday I went to see the Laibach/Juno Reactor concert at Metropool Hengelo. Laibach was nice, but we were really there for Juno Reactor, who gave a perfect show. The entire room was dancing along to the great music.
And some vids: