At Revelation Space I have been doing some woodworking for a project I'm working on. I'm normaly the guy with two left hands when it comes to working with heavy machinery and old-skool hardware, but I must say I'm not doing too bad.
It helps that revspace has more then enough of the necessary tools (at home I only have a hammer and a screwdriver :P)
The project is a self-built Arcade cabinet, which at this time has been called 'ScrapMAME', as it's been built completely out of scrap-materials.

I
have built the frame and outsides of the cabinet from wood boards that were originally bolted onto the windows in the workshop, together with some wood beams that were still lying around the space.
The buttons and joystick have been ordered from DealExtreme, and the first batch has arrived. Hopefully my second shipment with the remaining parts will arrive soon.
I'm using this arcade stick, and these buttons from DX. The buttons will be wired to the pcb of an old PSX controller, which will be connected to a PSX->USB adapter.
2010/06/26: The buttons and joystick arrived, so I could finally drill the holes.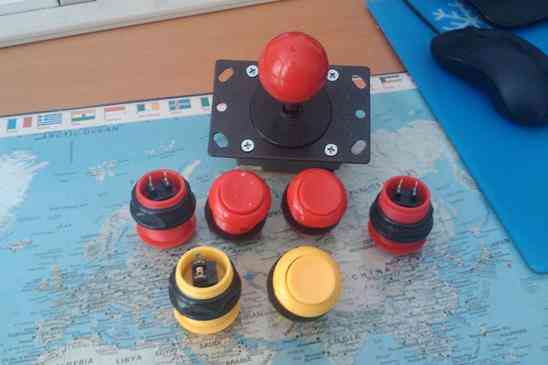 There is still lots to be done… which will be added as soon as I get to it ;P